Wide-Ranging Solutions in Nacelles and Other Aerostructures
We provide a suite of solutions in nacelle systems and other aerostructures including design and manufacturing as well as spares and maintenance services that are supported by a global network of distribution centers, satellite stores and repair shops.
We have a 1 million sq ft manufacturing facility in the U.S. where our engineers and designers, tool manufacturing center and assembly group are housed under one roof to ensure an efficient and optimized production line for nacelle parts manufacturing and assembly.
What We Do
Design, Development & Production
Our portfolio of engine nacelle programs for both narrowbody and widebody aircraft include the A320neo which is powered by CFM International's LEAP-1A engine; COMAC's C919 by a LEAP-1C turbofan engine; COMAC's ARJ21 by General Electric's CF34 engine; the Bombardier's Global 7000/8000 series; and the Boeing 747-8.
We have a comprehensive scope of capabilities – from product development to series production – which enable us to apply a systematic design-to-cost approach for our products.
Find out more www.mras-usa.com
Aftermarket Services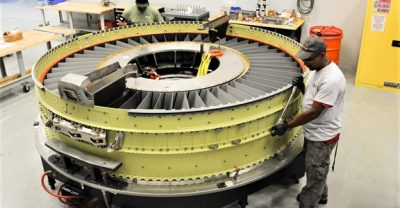 We provide an extensive suite of aftermarket solutions in customer support, services, spares and MRO, which include: 
We provide an extensive suite of aftermarket solutions in customer support, services, spares and MRO, which include:
- Wide range of nacelles and flight controls services
- Repair, Overhaul & Modification capability
- Loan & Exchange
- Parts repair including actuation
- DER Solutions beyond CMM and SRM
- Our extensive portfolio of engine types include:
- CFM56-7
- Trent 700
- PW4000
- JT8D
- Aerostructures – Cowls, Flight Controls, Nozzles
- B787 – GEnx & RR Trent 1000 (UTAS license MRO)
- B777 GE90 engine
- A320 leap 1A (OEM)
- Comac leap1C (OEM)
- CF34-10A and CF34-10E (OEM)
- Genx-2B (OEM)
- A320 series V2500-A5
- A320 series CFM56-5B
Middle River Aerostructure Systems, LLC
Senior Manager, Sales & Customer Service
Cell: (1) 443-425-5417